The reason different breeds of cattle are crossed is to produce crossbred progeny, new gene combinations are formed which are generally not seen in either of the parent breeds. Additive genetic effects still help define the animal genetically, but these new gene combinations cause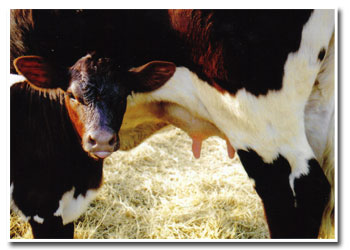 most crossbred progeny to exceed their parents performance. This is known as hybrid vigor or heterosis. Additionally there is another reason to produce crossbred animals. It is called breed complementarities and it increases productions levels. The strong points of one breed will mask the weak points of another and produce a better animal.
MILK - If you are raising replacement heifers, the milk and maternal traits of Pinzgauer are as good as there is. In Austria, where the breed was developed almost 1500 years ago, they are considered a dual purpose breed, dairy and beef. You can expect these replacements to have improved milking qualities meaning improved weaning weights of their calves.
SIZE - Pinzgauers are a moderate frame breed and will compliment almost all other breeds size wise. Birth weights are comparable with other continental breeds of 80 to 85 lbs. Weaning weights are on average slightly larger primarily due to their improved milk production.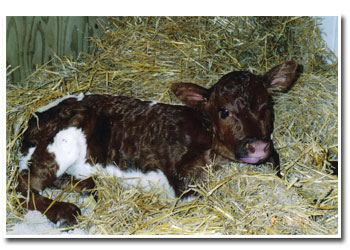 CARCASS - This is an area where Pinzgauers excel. USDA Meat Animal Research Center, Trait Averages for Steers of Pinzgauer breeding have over 61% Choice; over 69% Retail Product; Rib Eye Area of 11.28 sq in. The Journal of Animal Science Breed Effects, Retained Heterosis, and Estimates of Genetic and Phenotypic Parameters for Carcass and Meat Traits reports Pinzgauer had the highest score, 5.16 for fat marbling among European Continental breeds, only Angus and Herford scored better and that was less than .35. Shear force (tenderness test) for Pinzgauer was the best 4.47kg verses 4.5 for Angus to 5.78 for Gelbvieh, with most breeds being over 5.0kg. Research is continuing but the handwriting is on the wall - Beef Quality Genetics are in the future of all quality beef cattle operations.
COLOR - Now for some good news and some bad news. Due to over a thousand years of rigid color selection Pinzgauer offspring will retain their color pattern, white top line, white tail, and white underline. We cannot make them black. The Beef Improvement Federation (BIF) outgoing president reported that among many things a pen of cattle will look like in the next 5-10 years was "Color won't matter."